what an incredible show. big props to the diligent staff of hush and innergroove for putting on what i now regard as my best experience DJing. and massive props to all my friends who came out to make the night as special as it was!
my set was dedicated to brent. i don't normally do this, but here is my tracklisting from last night:
momu – descolada [dislodged remix] (3 beat breaks)
habersham – leaving tifton [digital witchcraft remix] (white label)
jiva – strange dimensions [dub-mensions mix] (bedrock breaks)
amiel – the chase [hi-fi bugs remix] (festival)
fretwell – ember (electrofly)
future renegades – fine day (white label)
deep cover – beatstalker [general midi remix] (hope)
miro – paradise [farmatronic creeping mix] (hooj choons)
planisphere – frogger (green martian)
bjork – pagan poetry [infusion remix] (rr1000)
luke chable – melburn (bedrock breaks)
formulate – rising edge [afk remix] (unreleased – pacific front)
21st century fux – sunspirit [chable & gough's oreo breakbeat remix] (inversus limited)
afk – magnetic [chompers mercy kill remix] (pacific front)
britney spears – breathe on me [james holden vocal mix] (unreleased)
nine inch nails – that's what i get [afk remix] (unreleased)
idjut boys & quakerman – radio rage [16b remix] (glasgow underground)
afk – carmichael (unreleased)
mario piu presents dj arabesque – the vision [starecase's b52 remix] (bxr)
evrydaydowners – this world [chris lake remix] (white label)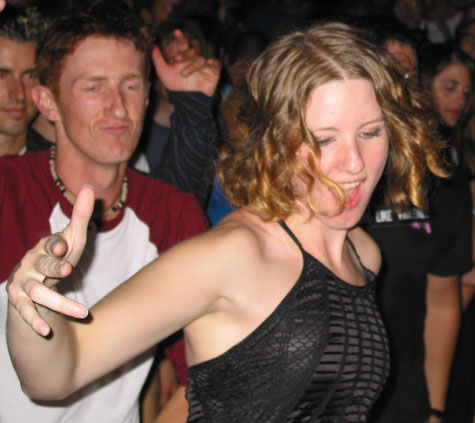 an amazing night. i can't remember hush ever feeling like that. hybrid really rocked out. my favorite part of their set had to be when they dropped their own remix of REM. totally amazing.
wow.
this was the first time i can remember feeling nervous before a gig in many many years. i love that feeling. why did it go away?
ears still ringing..