i feel like i should be writing a welcome paragraph to this post. it is my most massive picture post yet. thanks for the comments encouraging me to post them all at once. here they are — 41 of my best pictures from this weekend past. it was one of the funnest weekends i have had in some time.
oh, and i know what i am going to be for hallowe'en! woo! thank you juliekevinlesliejames!
since this is a massive picture post, you'll always be able to find it in the massive picture post listing to the right! new and improved!


"this plant didn't need water to grow, it just needed some creativity" – cecelia on friday night, 1 a.m.


friday night – upstairs cabaret.. why?


this is why! dj mischiff exposed the masses to the new breakbeat mix of Underworld's classic 'Born Slippy'


cecelia, downtown


the grass was greener than ever in victoria on saturday after the heaviest ever one day rainfall on thursday and continuing dampness on friday


saturday, darth vader came to victoria.. but the grass didn't appear to be green at all!


darth vader resorts to playing his sad song on the violin. such a dreadful state we're in thanks to the current bc government. there there, darth vader, there there.


i met up with my world-traveller friend emily on saturday at christie's pub for lunch. saturday evening i went for dinner with emily and friends at hugos.


mamma shorthouse, laura, emily, saila, corinne


davin emily saila


emily saila corinne


emily and her sister laura


laura emily saila davin corinne
went to hush right after to see DekoZe spin!


julie spotted in the crowd at hush!


justin and emmy


walter and jim.. you've heard of two headed snakes.. here is a two headed tech-bot!


braeden djing at hush


cecelia and emmy


brent carmichael at hush


the worlds funniest blogger, daveyb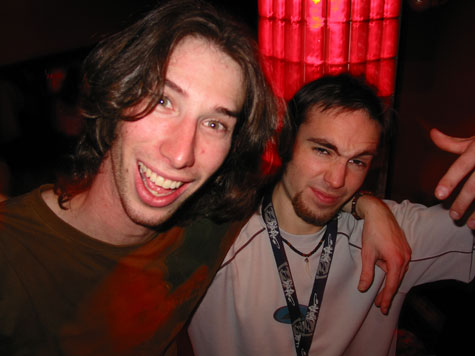 cam and trevor held their eyes open long enough for this photo


james and james — rave victoria and rave culture


the ebullient carey


me and kevin


keoni (the angry samoan) is back from australia!


dekoZe spins his special brand of madness


dj's braeden and dekoze discuss some matter of sound advise


german mike trances. or something!


watch your head, sir..


it was emmy's birthday on saturday night! after midnight to be precise.. happy birthday emmy!


the crowd was loving it for good reason


me and dekoZe


the dancefloor ambience


james presents Le Hair (4 am)


leslie observes Something late saturday night (5 am). this is from saturday afternoon after lunch with emily.. i went over to jims. he turned his fan on because it was really hot in his apartment for some reason. his fan sucked ladybugs in!


jim brought out the spotlight.


i brought the macro shot.


the natural pecking order.. calico and the ladybug.
so there it is. i may make a wallpaper / desktop out of that last picture there, i really quite like it. please leave your comments on the pictures. i know there is a lot of people shots — i know a lot of people!