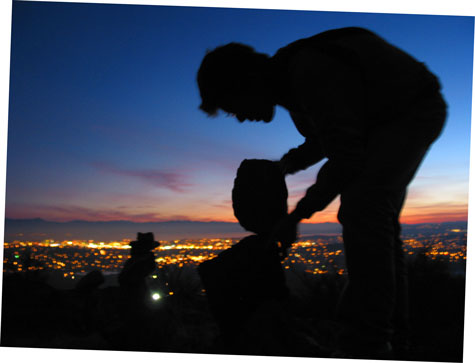 these are some pictures from the sunset tonight. i went with charles paul. our vista was the local hill known as mt. doug.
it really looked nice up there. my friend nathan sometimes brings up his laptop and fires up reason and makes music. i'd like to be able to do that — the view is really inspiring.


i went over to justin's (formulate) afterwards and checked out his remix of magnetic. magnetic is caveman, caveman is magnetic. basically it was called caveman as a code / project name. every cool project has a code name, doncha know.


maus over for those without the benefit of a sweet LCD display
anyway he's just about finished it and it really really rocks. i can't wait to play it out. plus justin is handling the mastering of the original mix which is great! i picked up some mastering tricks from him tonight so sooner or later i will be mastering my own tracks again.


charles paul is remixing the track as well — i hope to hear his remix soon. i'm pretty excited about sending this track out to labels and DJ's with the remixes as well.


i have tonnes of pictures to post from the last few days. my camera has both batteries fully charged, so i may have even more by the time i get around to posting more.
i am headed to nanaimo in the morning so i'll have to end this post here!