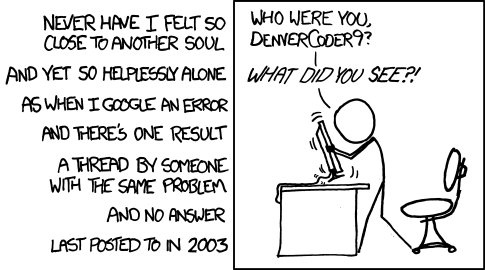 With social media, we have the potential to learn a lot from one another, take those learnings, and transfer them en-masse. As a learning practitioner, you may find that this skill will or has already become critical to your success in building knowledge capacity in others.
What is a learning practitioner? For the purpose of this post, by learning practitioner, I mean trainer, teacher, instructor, or anyone in a position where they are transferring knowledge to others. That could be you today, or it could be you tomorrow. It's probably you if you are reading this for fun and may send it to someone.
This post is about how to use social media tools to your advantage in the context of teaching a subject or specific topic to a group. So let's get to some tools and see what they can do for you. This is not meant to be an exhaustive list, but rather a summary of some of the social media tools I use myself to gather and curate information to enhance subject knowledge in areas I am responsible for knowing and transferring to others.
Circles – build a practitioner community with your peers. Circles are like groups that you can use to apply to your newsfeed, messages, who to share your own updates with, as well as "Hangouts."
Hangouts or video chats – you can teach remotely this way. It's similar to LiveMeeting but it has the convenience of being on the web and does not needing a specific program to be downloaded to use it.
Search by people, pages, communities, posts, hangouts and events
Lists – build your 140 character practitioner community
Take advantage of real time search on a subject when a relevant story is unfolding – may be useful for the classroom/training room
Utilize hashtags that are relevant to the subject you wish to know more about and that are in use by subject matter authorities who influence you and your colleagues, ie #leadership
There are many subject matter groups worth joining, many of which that have active memberships that are participating in discussions at any given moment
Connect with other professionals who you've worked with and develop your knowledgeable network – create a living knowledge base
Elucidate further on subjects – write for the people you are transferring knowledge to and give them a 24/7 resource – and tell the story of the knowledge you want to transfer in the way you want. Embed videos, enable comments, moderate and interact.
Aggregate other blogs using tools like Google Reader and curate content for your students from many sources – interact with your favourite subject matter authorities and stay tuned to the thoughts of thought leaders
Ask a question, get an answer
Like Yahoo Answers but in a walled community where readers get points for answering questions and can use points in different ways, such as promoting their own question in other user's news feeds by applying points to the question.
Questions are tagged by topic – tags link similar topics together for greater knowledge aggregation
TED is not traditional social media – ie, not a symmetrical (two way) communication but more asymmetrical (one way), however it travels through social networks – including your student's social media networks and your peer's social media networks as a way of learning or spreading an idea worth learning about. It also enables something profoundly different when it comes to teaching, as does any video lesson available on YouTube or Vimeo.
TED Videos have over a billion views as of this year
Flipping the classroom – Salman Khan did a TED talk about how he uses video to teach lessons. Since lessons and lectures are mostly asymmetrical knowledge transfer, they match the delivery method of video, which can be consumed at home. He then proposes that teachers use the time in the classroom to have students work on assignments and answers questions about assignments that are usually done at home without support. As we all know, having a question that you can't get answered until the next day can be a huge stumbling block in a learning experience. Assignment time has the most potential for use of the most symmetrical communication experience because students will have questions when they take on completion of assignments which test their knowledge.
TEDEd – In beta from TED.com, this site is built on the "flipping the classroom" experience. There are 3 components to each TEDEd piece: Watch (video) / Think (quiz) / Dig Deeper (additional research)
TEDx – in addition to the main TED videos, there are many excellent and relevant videos released from independently organized TEDx events, which are TED-like experiences, such as TEDxVictoria.
Crowdsource specific information – my friends are good at answering simple questions .. chances are, yours might be too. Pose a question, see what your friends think.
Join groups – although Facebook is a more casual social media platform than LinkedIn, you can still find very passionate groups that are dedicated to specific topics or subjects.
The bottom line is that there are so many tools where you can find and develop your own personal network for any number of subjects, topics or interests. I recommend finding the spot where your influencers are and joining them rather than trying to migrate everyone you know into the spot you like best. The best spot is where your best network is.
That's it for now. If you have suggestions or examples of tools you use and how you use them, I welcome and encourage your comments!