here is a picture (from last night) of nigel tasko, melixxxa, peter beatty and damien norris. this is, more or less, noble house and the alien mental association. they were responsible for a whole slew of great underground massives on the west coast, having brought in such DJ's as Sasha, John Digweed, Dave Seaman, Paul Van Dyk, Paul Oakenfold, Jerry Bonham, etc etc. Huge.
there may be more, finally, in the works.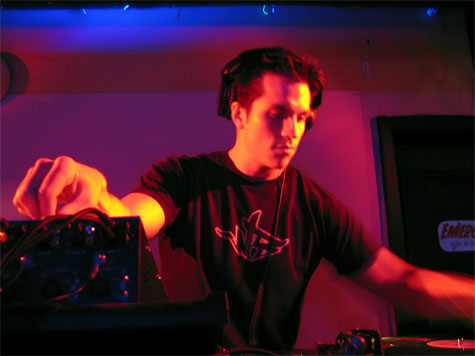 It was a bit of a late night last night. I started by going to Steve's (broken wrist) to watch the Flames burn the Sharks. Then I went down to Hush to meet up with Leah and talk to Brent but talking to Brent didn't happen. I was due at QV's by the time Brent arrived so I left for QV's to meet james pezguy where we then plotted away for an hour and a half or so. It was great to catch up with him. he definitely took the initiative in us hanging out in a flatteringly honest and inventive kind of way:
http://www.cheezy.net/blog/archive/000199.php
I don't like to go out on week nights any more as I like to start winding down by 10:30ish at the latest these days. Ocassionally I'll go out later than that, and last night was one of those nights. It was Braeden's birthday party down at Hush and so I hung out and enjoyed the company of some friends that I only see when I go out. Which .. is unfortunate.
tonight i will make music and by tomorrow i will have slept the good sleep.